NC-815 Volume of Slime Measuring Device
NC-815 Volume of Slime Measuring Device

This product is produced in accordance with China National Standards (GB/T14643.1-93). Please refer to the following picture.It can online measure volume of slime the circulating cooling water, and determine the existing bacteria and other components from the collected slime in order to adopt the best way to eliminate.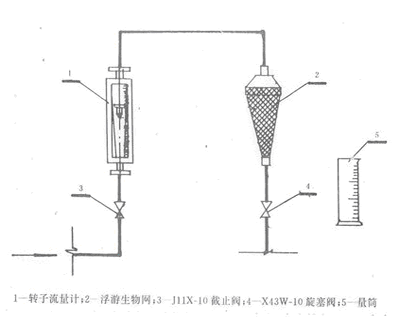 1. Rotameter; 2. Plankton Net; 3.JI1X-10 Cut-off Valve ; 4.X43-10 Stopcock; 5. Graduated Cylinder
Measurement Method:
Adjust Valve (3) in the sampling device to control the flow rate of the circulating cooling water at 0.8m /s, the water flow amount of flowmeter at 1m3 / h. After it becomes stable, turn off the the valve of plankton net (1) and filter 1m3 of water (V1).

2. Turn off the valve (3), remove the upper horn mouth of plankton net, place the 500ml graduated cylinder under the mouth. Turn on the lower valve of the the plankton net (1) to collect the slime to the graduated cylinder. Use tap water to flush the filter net with washing bottle. The cleaning liquid should also be collected in a 500ml graduated cylinder, and make it stand for 30min. Pour out the uper layer clean liquid, and remove the remaining turbid liquid to a 25ml graduated cylinder and keep it stand for another 30min. Make a record for the volume of slime.

ml/m3 is used for expressing the volume of slime in the circulating cooling water. Volume of slime (V) is calculated according to the following formula (1):
V = V2/V1 ....................................................... (1)
In this formula,
V1 – Volume of circulating cooling water filtered through the plankton net, m3.
V2 – Volume of Slime in a 25ml graduated cylinder, ml.